SLU Celebrates New ISE Building Milestone
12/06/2019
University leaders, St. Louis Mayor Lyda Krewson, trustees, students, faculty and staff members gathered to mark the topping-out of Saint Louis University's new $50 million Interdisciplinary Science and Engineering (ISE) Building.
Students, staff, faculty, guests and University leaders gathered to sign the final beam before it was lifted into place on Friday, Dec. 6.
In the lead-up to the topping-out, Krewson lauded SLU's latest investment in providing its students with state-of-the-art research and classroom space, linking the ISE Building's progress to the momentum transforming not only the University's Midtown neighborhood but also the entire city and St. Louis region.
"These projects, and this project here show that SLU's continued growth, revitalization and success is really a huge part of this incredible momentum that we are enjoying in the City of St. Louis right now," the mayor told the crowd.
"I'm so excited today, both for today's students and staff, and for future students and staff, to have this space to learn, to collaborate, to experiment together in these state-of-the-art labs and classrooms," Krewson said. "I know that what they learn, what they discover and what they create will be a testament to this high quality education right here at Saint Louis University."
University President Fred P. Pestello, Ph.D., echoed Krewson's remarks about SLU's commitment to sparking innovation across the region.
"The ISE Building is propelling our ability to meet the challenge of the times and to embrace the opportunities of the future," Pestello said.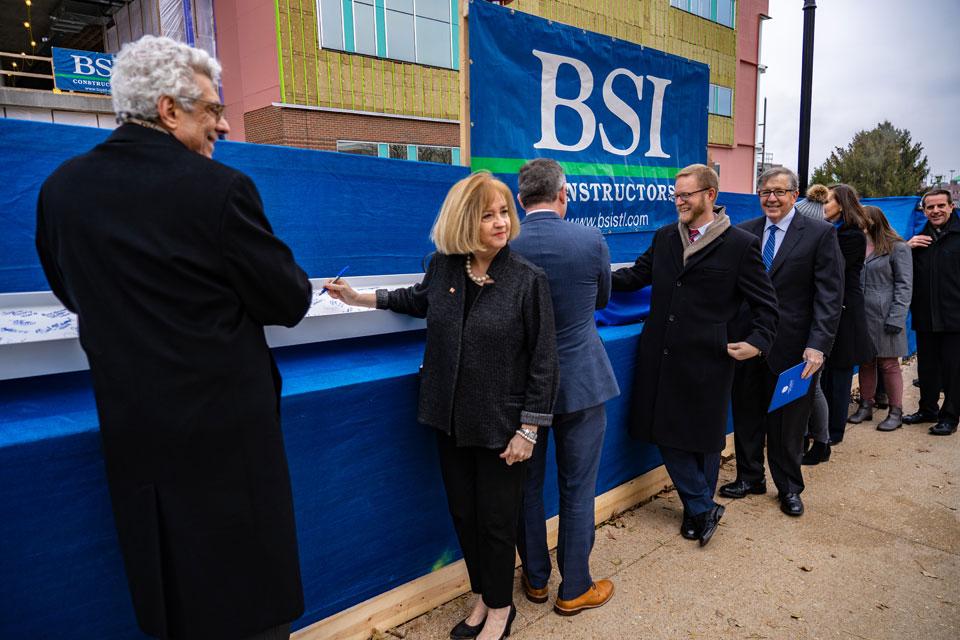 St. Louis Mayor Lyda Krewson (center) joins University Fred P. Pestello, Ph.D. (left) and other dignitaries to sign the beam to top-out SLU's new Interdisciplinary Science and Engineering (ISE) Building. Photo by Steve Long
Cutting Edge Facilities to Foster Collaboration
The ISE Building's 90,000 square-feet will house innovative teaching spaces built with the latest STEM pedagogy in mind, Michael Lewis, Ph.D., associate provost and interim dean of the College of Arts and Sciences, said.
In line with a recent grant to further STEM education at SLU, the building was designed to create an environment to foster student growth and learning.
"You don't build a facility like this just to add another building to campus," Lewis said. "You build it with intention and purpose."
The building's labs and classrooms will host students from departments and programs representing all of SLU's colleges and schools.
Like SLU's recent investments in its new Academic Technology Commons and Virtual Reality Room, the space also supports research aimed at addressing some of the key challenges facing society.
"The research that's going to be done in this building is really quite amazing – central to our mission, interdisciplinary, serving those who are in need and on the margins – it's really everything that we're about," Lewis said.
Creating Spaces to Spark Educational Innovations
Senior Maleah Fallahi, president of the Student Government Association, spoke of the ways the new building will foster collaborations among students and faculty. She told the crowd that students are more than excited about the building's opening in fall 2020.
"Students are ecstatic about this building," Fallahi said. "At SLU, students collaborate every day, across disciplines, backgrounds and ideologies. We are existing in a time where collaboration is more critical than ever."
New Resources Support Life-Changing Research
While the ISE Building is the latest example of the University's commitment to advancing achievement in STEM disciplines and to meeting the demands of its largest class in University history, Joseph Conran, J.D. (A&S '67, Law '70), chair of the University's Board of Trustees, also highlighted it as a living symbol of SLU's rich history of research and innovation.
Learn More about the Selected ISE Building Research Projects
A diverse range of impactful research projects will occupy space in the building, from research on critical water issues to digital humanities.
"This fantastic new building, when it's finished, will help shape science and engineering education and research here for decades to come," Conran said. "Important discoveries will be made here. Future leaders will be taught here. And we will have the cutting edge technology, labs and spaces to meet the growing demand for STEM education at Saint Louis University."
Other Topping-Out Ceremony Highlights
Michelle Sabick, Ph.D., dean of Parks College of Engineering, Aviation and Technology, serving as the emcee for the pre-top-out ceremony, welcomed those gathered.
Christopher Collins, S.J., assistant to the president for mission and identity, opened the event with a blessing.
Amanda Cox, associate professor of civil engineering, and a member of the WATER Institute, one of the projects selected to occupy research space in the ISE Building, spoke of the innovative, cross-disciplinary research that would be underway after the building opens in fall 2020.
Students, faculty and staff signed good wishes and their names to the final beam.
The beam was hoisted and put into place by members of BSI Constructors.
Krewson, Pestello, and others praised BSI, the company's head and SLU alumnus Joseph Shaughnessy and Hastings+Chivetta, the project's architects.
Pestello extended a special thanks to the SLU community and those involved in the planning and realization of the building, particularly the University's Facilities Services division.
Saint Louis University is a Catholic, Jesuit institution that values academic excellence, life-changing research, compassionate health care, and a strong commitment to faith and service. Founded in 1818, the University fosters the intellectual and character development of more than 13,000 students on campuses in St. Louis and Madrid, Spain. Building on a legacy of now more than 200 years, Saint Louis University continues to move forward with an unwavering commitment to a higher purpose, a greater good.
Story by Amelia Flood, University Marketing and Communications